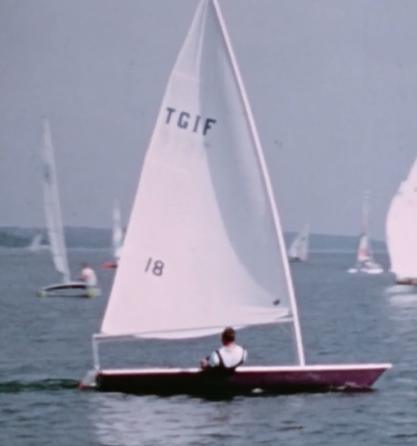 An interesting half hour movie of Laser history from 1974 has come to light.
It tells the Laser story of Ian Bruce and Performance Sailcraft the company which he originally formed to produce and market it.
The movie shows one of the first ever big fleet Laser regattas held at Association Island, New York on Lake Ontario across the lake from Kingston (with Ian Bruce competing!). The movie has interviews with Ian, Bruce Kirby, and Laser sail designer Hans Fogh along with shots of Lasers being produced in Ian's factory.
There is footage of Hans Fogh helming the prototype Laser in an October 1970 regatta held for boats under $1000 at the Playboy Club at Lake Geneva in Wisconsin. It was called 'The America's Teacup Regatta'. Ian and Hans decided to call the prototype the 'Weekender' with sail number TGIF, the abbreviation for 'Thank God It's Friday'."
The movie is from the National Film Board of Canada archive Here