The Laser Metros are on next weekend at Double Bay Sailing Club.
This is always a great event with lots of entries (130 last time). This regatta will also be a great warm up for the Laser State Championship which DBSC will be hosting in November.
The Notice of Race is HERE and  the Sailing Instructions are attached and are available to download HERE.
You can enter online HERE (cost is $60 or $30 if you are under 21). Beach entries will be accepted up to 11.30am on Saturday 18th March with payment by cash, Visa or Master card.
For sailors rigging at other clubs we will again have sign on and off by SMS available – just send an SMS to 0477 647 537 with the boat number/s and the words "sign on" and "sign off" (SIs 22.4 applies).
DBSC has arranged car parking at the Double Bay Public School just across Steyne Park from the club – entry is off William Street. Cost is $20 for the weekend going to the school's P&C. Otherwise limited on street parking can be found but it may be a long walk away. Be warned the local parking police are quite vigilant so observation of the parking restriction signs is recommended.
Trailers can be parked on the grassed area near the club. Access for this trailer parking will be via Ocean Avenue where it meets the bay, and not Bay Street. Google map is HERE.
DBSC Commodore Luke Parker has the following message for Laser sailors:
On behalf of all at DBSC, I'd encourage Laser sailors from far and wide to join us at the 2017 NSW Laser Metropolitan Championships. DBSC hosted the Regatta in 2015 and it was a great success.  We're determined to repeat that performance next weekend.

We'll be racing on Sydney Harbour, not far from the Bridge, the City, the Harbour Islands and Fort Denison. It's a spectacular and challenging place to race. Of course, we won't have the harbour to ourselves, but we'll be positioning courses to make the most of the prevailing winds with consideration of other traffic.

Our change rooms have ample hot water, you'll get a DBSC engraved mug (guaranteed to become a collector's item) and the canteen will be stocked. We have a $2 sausage sizzle after racing on Saturday and breakfast on Sunday.   What more could you want?

We look forward to racing with you on 18 and 19 March.

Applications for entry will open Thursday, 16 March 2017 at 00:01 Central US time for the following ILCA World Championship regattas:
     2017 ILCA Laser Radial Youth World Championships
     2017 ILCA Laser Radial Women's World Championship
     2017 ILCA Laser Radial Men's World Championship
For all events, The deadline for receiving paid applications for initial allocation of places is 25 April 2017 at 23:59 Central US Time.
Note: Central US Time is 16 hours behind Australian Eastern Standard Time and 17 hours behind Australian Eastern Daylight Time.
You are encouraged to complete an entry application as soon as possible after it becomes available. Please be aware that if you do not apply by 25 April 2017, you may have little chance of receiving an entry offer.
The links below will take you to the event information sites with access to applications and additional information about each championship, including the Notice of Race and the district entry allocations.
2017 ILCA Laser Radial Youth World Championships
Dates: Friday, 11 August – Friday, 18 August 2017
Venue: Medemblik, Netherlands
2017 ILCA Laser Radial Women's World Championship
Dates: Saturday, 19 August – Saturday, 26 August 2017
Venue: Medemblik, Netherlands
2017 ILCA Laser Radial Men's World Championship
Dates: Saturday, 19 August – Saturday, 26 August 2017
Venue: Medemblik, Netherlands
A great roll up of 114 Masters Lasers sailors enjoyed and endured, in equal measure, the State Masters at Great Lakes Sailing Club on Wallis Lake Forster over the weekend.
Three fronts swept over the venue over the weekend – fortunately none of them during the racing. As it was conditions were pretty challenging on Saturday with an around 20 knot NE and then after the three races a 2 mile work back home into a freshening 20 to 25 knot breeze. None of this dulled the enjoyment of the roast dinner and ales provided from the Great Lakes Sailing Club in the evening.
On Sunday, after a powerful overnight storm, the wind was SW and 5 to 15 knots. The conditions were tricky and the weed kept sailors busy with the centreboard lift and rudder sweep routine.
The competition was pretty intense as expected with four Laser Masters World Champions in attendance. There was none the less the usual good spirit with all rules issues sorted out on the water.
The final results are HERE. The fleet results are HERE.
John Basden took some nice photos on Day 1 which you can see HERE.
Thanks to the Great Lakes Sailing Club and RO Andrew McLachlan and his team for their fabulous organisation of the event.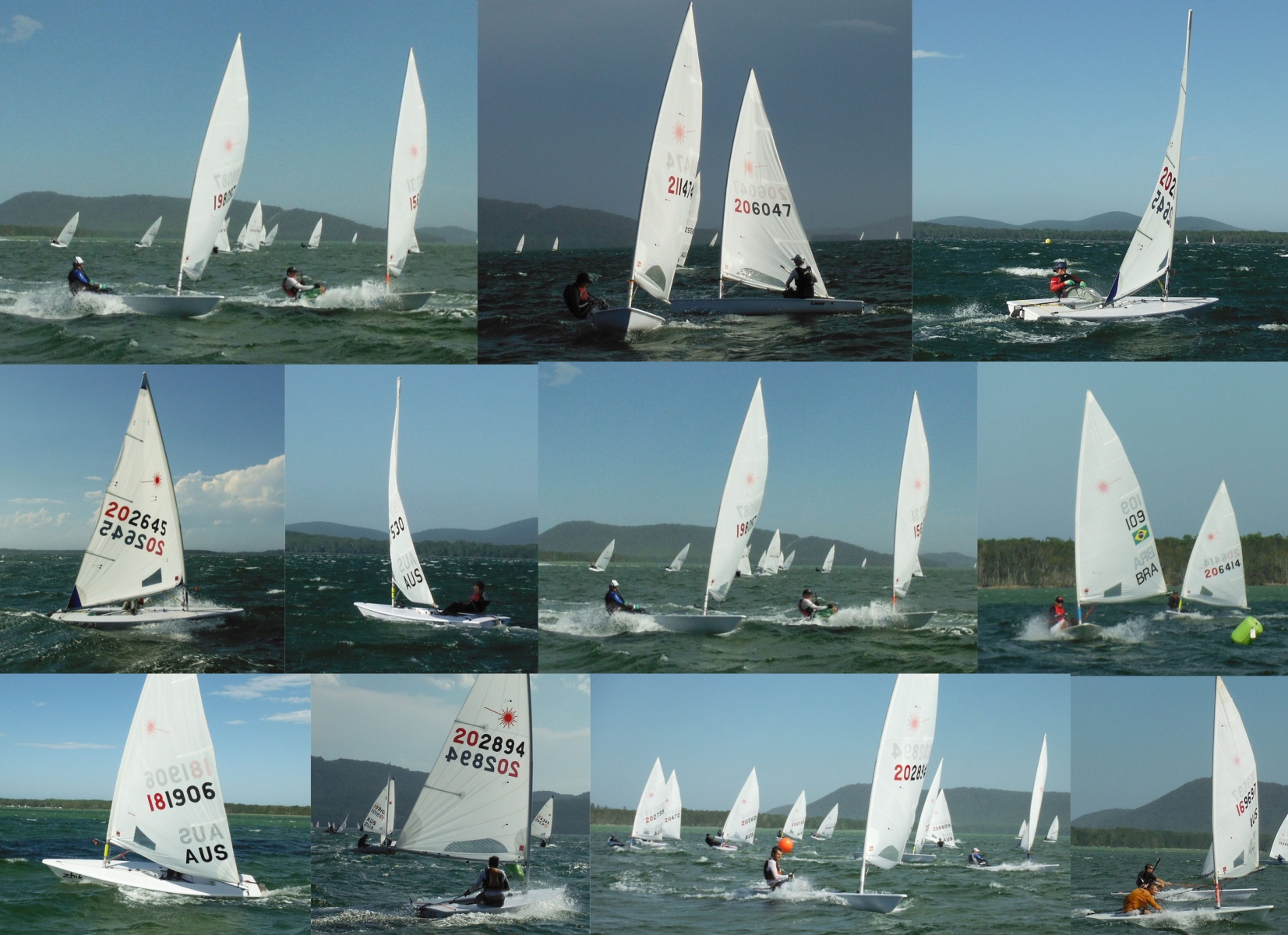 The next Laser Masters extravaganza is the State Masters which this season will be at Great Lakes Sailing Club located in the Booti Booti National Park at 4859 The Lakes Way Forster. The Google map location is HERE.
This is always a popular venue with great open water on Wallis Lake and no Manly Ferries or sundry stink boats to distract us from the sailing.
There is camping at the Club and ample accommodation nearby and at Forster/Tuncurry. (Booking.com Trivago AirB&B Wotif).
The event will be run to the usual six race, two day format on the weekend of 18-19th February. The Notice of Race is HERE . The Sailing Instructions are HERE.
You can enter online HERE or up until 11.30am on Saturday 18th February at the Club.
You can see who has entered to date HERE.
The State Masters will be precede by the usual Masters Golf Tournament on Friday 17th February.
At Wallis Lake we have played the Tuncurry course in the past but due to popular demand this year's event will be  played at the Forster course in Strand Street.  First tee time 1:00pm, cost $33 and cheaper if we get more players.  $40 for a cart,  and you can book one at 02 6554 6167.
Please SMS Rob Lowndes at 0419 266 257 if you will be playing.
Remember, it is an Ambrose event so no worries if you are not a golfer of any repute!  Just come for the fun and get there by noon for a bite to eat before playing.
Masters sailors don't miss it!

Applications for entry for two 2017 ILCA Laser World Championships will open Wednesday, 15 February:
2017 ILCA Laser 4.7 Youth World Championships
2017 ILCA Laser Under-21 World Championships
Information about the ILCA Laser World Championships can be found through the ILCA Events Page HERE.
If you don't apply by the 28 March 2017 application deadline you may have little chance to receive an entry offer for these events.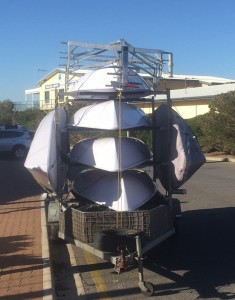 Laser sailors will go to great lengths to get their boats to regattas to enjoy the racing.
The photo here was taken at the 2017 Adelaide Nationals. It shows a sterling effort.
If anyone has a photo of a larger Laser sandwich we will be happy to publish same or perhaps to create a new Guinness Records classification for the endeavour.
Photos to lasersandwich@laser.asn.au.
PS
Never to be outdone Matthew Blakey reports that 9 Kiwi Laser sailors transported their boats from Melbourne to Adelaide for the 2003-2004 Nationals in the configuration below.
It is a bit hard to see all the boats but we know Kiwis can count and as there are eight Laser sailors in the photo we are assuming that the 9th was the photographer so 9 is the current Laser sandwich record.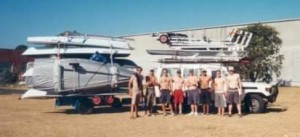 World Sailing WS is the recently renamed world peak sailing administration body previously called ISAF. They do lots of really good stuff for sailing apart from producing the Racing Rules and updating them every four years. They have however recently come up with a proposal which we think would be very bad for Laser sailing.
WS have a proposal to get rid of Rule 42 for all WS Championships and the Olympics. Now most Olympic classes already allow pumping, ooching, skulling and repeated tacks and jibes to propel a boat which Rule 42 prevents. Lasers do not and we believe it should stay this way. It is our view that this proposed change as it inevitably trickles down from international to national, state, interclub and ultimately club events will be quite negative for Laser sailing generally. If you want to see what sailing without Rule 42 looks like have a look at the short video clip from the Rio Olympics HERE.
The main motivation for this change by World Sailing WS is said to be to "increase athleticism and competitiveness on downwind legs". Others suggest that their focus is on making the sport more exciting for spectators and hence more marketable.
The Australian Laser Class Association and the International Laser Class Asociation are lobbying to have this proposition thrown out. It was recently very narrowly not adopted by the WS Council but it will most likely be submitted again for voting in November 2017.
If you are interested you can see our letter on the subject to Australian Sailing and their reply HERE.
Applications are now open (until 1st March) for this year's 2017 NSW Youth Sailing Team.
The YST provides squad based coaching support for selected sailors from designated junior and youth classes which include Laser 4.7 and Radial.
Coaching will be conducted by State Performance Coaches targeting the development of skills required to perform at national level and be in consideration for a State Sailing Performance Program SSPP (NSWIS) Scholarship in the future.
The minimum contact days for Laser sailors in the program is 50.
More information about the program is HERE and applications can be made HERE.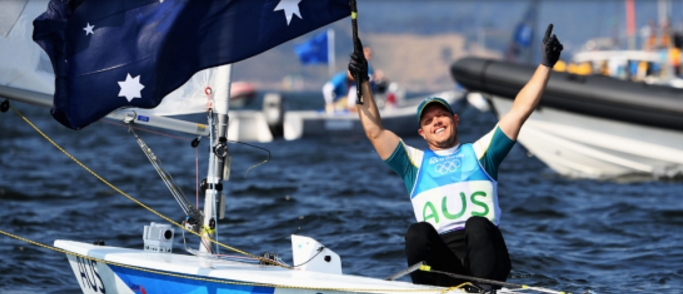 Congratulations to Tom Burton following his award of an Medal of the Order of Australia (OAM) on Australia Day.
Tom was joined by 21 other Olympic Athletes recognised in the Australia Day awards.

Australian Sailing and the Australian Institute of Sport are seeking information from sailors on success factors in the sport.
They are seeking responses from sailors born from 1965 onwards and are offering a draw for Zhik vouchers as an incentive.
They say the survey should take 30 to 45 minutes to complete.
You can see more information about the survey HERE.
You can access the survey HERE.
The new Racing Rules of Sailing 2017-2020 has come into force from 1st January.
You can see and download a copy from the World Sailing web site here.
There are changes to sailing administration however there don't appear to be any big changes to the rules.
Rule 18.3 has been reworded to clarify the situation when a boat tacks onto starboard in the zone at a windward mark being rounded to port. The words are new but the concept is unchanged in that the boat already on starboard coming into the mark does not have to sail above close hauled to avoid collision with the late in tacker. This is an often observed situation in our big fleets at the first windward mark so good to have a refresh read of the rule.
Well done to everyone of the 210 competitors in the 2017 Laser Australian Championship held at Adelaide Sailing Club over Christmas – New Year.
The winds were uncharacteristically light in the first three days but improved after the New Year's Day break.
The Standards and 4.7 saw emphatic wins by Matthew Wearn RPYC/FSC and Jack Littlechild WSC/BSC/RSYS respectively. Both sailors had their events wrapped up before the last day. This was far from the case in the Radials where the top five positions were all up for grabs in the final race. With highly variable conditions on the final day only one race was completed so the tension on the course was at high levels. You can see how the race unfolded by looking at the Tractrac tracker here.
The ultimate Radial winner was Rhett Gowans Mornington YC while the Women's winner was Rio Olympic Representative Ashley Stoddart RQYS who was 5th overall.
55 of 210 competitors were Masters sailors including two current World Masters Champions. Add did well in the testing conditions.
Congratulations to Adelaide Sailing Club and their great team of volunteers as well as PRO Ross Wilson and his team for the professional way in which the series was run.
The event web site is here and full results are here.
The 2018 Laser Nationals will be at Royal Queensland Yacht Squadron Brisbane over Christmas New Year and the separate National Masters will be at Mooloolaba Qld in February 2018.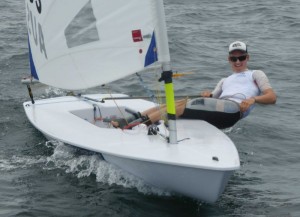 Congratulations to Finn Alexander DBSC for his win the ISAF World Youth Sailing World Championship just concluded in Auckland.
After a DSQ in the first race Finn strung together a string of four bullets in heats 4 to 7 leaving the classy fleet of 57 a tough chase.
Zoe Thompson from Perth was 7th in the Girls Radial.
You can see the YouTube video clip HERE.
The web site for the series is HERE.
The results of the event are accessed HERE

The International Laser Class Association (ILCA) and the Laser Builders have agreed to release the new composite Laser top section.
The release of the new top section was delayed until after the 2016 Olympic Games.
The new composite masts will be legal for use in all ILCA events as soon as they are introduced which is expected to be in early 2017.
The formal ILCA press release on the subject is HERE.
You can pre-order the new mast section for delivery in February from NB Sailsports or PSA.