Masters sailors coming up are the inaugural Oceania Fiji Laser Masters Championships which are being held at the five star Sofitel Resort Denarau Island, Fiji.
Separate events will be held for Standard and Radials. The Standeard event will be from 13th to 19th October 2018 and the Radials from 20th to 26th October 2018.
This is a great venue with warm water and good sailing breezes.
100 brand new Laser charter boats will be supplied for the event.
Charter bookings are now open & will be on a first come first served basis, book early so you don't miss out. Click the link HERE to secure your charter.
Fiji Airways and Sofitel have special discounted rates for flights and accommodation for the event. Click HEREto get information and book a fly and stay deal.
The event web site https://www.oceanialaserchamps.com/ has details and links to book a charter.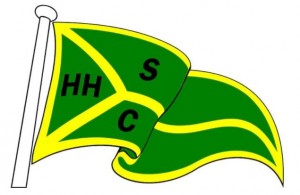 Hunters Hill Sailing Club, supported by BoatCrewGear.com and BoatRopes.com.au are delighted to present the 2018 "Pleasant Sunday Morning" Winter Race Series.
Come along and enjoy the winter sailing on the waters adjacent to Hunters Hill Sailing Club.
The Race Series is open to all off the beach dinghies, and will be raced in mixed fleets along yardstick speed ratings in a relaxed racing environment. Canteen facilities will be open for competitors, families and supporters.
Race days are 6th May, 3 June and 5 August 2018 and entry is $44.00 per boat for the series.
The NSW & ACT Metropolitan Championships were held over the weekend of 17-18th March at Drummoyne Sailing Club. DSC is a fabulous club with a great rigging area and on and off water facilities.
There were 77 entries for the event over the three fleets – 4.7 – 20 entries, Radial – 33 entries, Standard – 24 entries.
The regatta was in two parts with a gentle 9-12 knot easterly on Saturday followed by a boisterous 18 gusting to 30 knot north westerly on Sunday.
RO Col Chidgey set the sailors some challenges. Considering the tight race track defined by the west harbour islands and the many moored craft Col opted for journey courses rather than our normal trapezoid (essentially windward and return courses). There were two days of starboard rounding courses. This combined with restrictions on sailing inside moorings (including very many with little more than a small red float to mark them) lead sailors to refresh their knowledge of RRS rules which we seldom need to consider in our events. Some sailors managed the new situations and environment better than others.
Five races, of the scheduled six, were completed – two on Saturday and three on Sunday.
The 4.7′s were dominated by Royal Sydney Yacht Squadron (RSYS) who comprised 11 of the entries and the first five places. Daniel Costandi won all three of the breezy day races and won from Jack Ferguson who won both of the light wind races. Third was Sylvie Stannage who as well as RSYS also sails from adjacent Hunters Hill Sailing Club.
The Radials were dominated by the fabulous trio from WA lead by Zoe Thompson who won counting three first and one second place. Fellow WA sailors Elyse Ainsworth was second and Jacinta Ainsworth third. Jack Littlechild from RSYS and Double Bay SC was 4th and first Under 19 and Henry Otto from the same clubs was 5th and first Under 17.
In the Standards Nic Skulander from Woollahra SC counted three bullets in a convincing win from Oskar Hansen and Zac Skulander both from Middle Harbour ASC. Oskar was the first Under 21.
The full results of the event are HERE.
The DSC did a great job in staging this regatta. Thanks to DSC Commodore Grant Wakefield, Sailing Manager Peter Robinson and Col Chidgey and their teams for a great regatta.
There are some terrific photos of the event by Peter Robinson linked below. Just click the thumbnail to see the photo full screen.

This year ILCA proposes seven rule changes concerning fittings, mast sleeves ropes and future rule change voting method itself.
You can see the detail of the proposed changes, none of which are particularly contraversial, by clicking on the survey link HERE. Voting can also be accessed through a link on the ILCA website www.laserinternational.org
Voting on 2018 ILCA Rule Changes began on 7th March 2018 and will conclude on 7th September 2018. All members of any Laser District may vote – one vote per member.
ILCA encourages members to have their say on these rule changes so we can be sure that the rules reflect the opinion of members around the world.

The Metropolitan Championships are coming up on the weekend of 17-18th March at Drummoyne Sailing Club.
The Notice of Race is HERE and entries can be placed  online HERE or on Saturday 17th at the club. Entry is $60 or $30 for sailors under 21.
Current Sailing Instructions for the event are HERE. Change already incorporated into SI's is HERE.
Drummoyne Sailing Club has great facilities and offers viewing of the race track in most breezes. The club's web site HERE  has information on the club's dining and facilities. The club is located at 2 St Georges Crescent Drummoyne. Google Map location  HERE.
This will be a fun venue with racing around the islands in the more traditional triangle, windward/return format.
There is good rigging area however car parking in the area is tight. Recommended parking is in the large adjacent Birkenhead Point Centre. Birkenhead parking information is  HERE.

Entries are open for the 2018 Oceania & Australian Laser Masters Championships run by the Maroochy Sailing Club  and sailed from Mooloolaba between 9-12 February 2018.
This will be a cracker of an event and not to be missed.
The Notice of Race for the event is HERE. You can enter online HERE.
For masters sailors who are planning to enter the next World Masters event at Dun Laoghaire, Ireland (7–15 September 2018) this event will be one of your last chances to gain entry ranking points (see HERE).
The event web site is HERE.
Following the ALCA AGM and the gathering of views on the timing and length of the Laser Nationals (Oceania & Australia Laser Championships) the ALCA Committee have decided that the following arrangements will prevail for next (Tasmania 2019) and, as far as possible, subsequent Laser Nationals events.
Measurement 1st January 2019
Measurement and Test Race 2nd January
Races 3rd to 8th January (6 days 12 races)
These dates and arrangements for the 2019 event, to be run by the Mersey Yacht Club Devonport, will be formalised shortly in the usual way via the Notice of Race. This  will be a combined Open and Masters event.
The timing for the 2020 event to be hosted by the Victorian District is fluid at present as arrangements are finalised for the National/Regional and International events planned for Melbourne and Geelong in that year.

ILCA has announced the entry opening and closing dates for the following 2018 World Championship events.
Applications for entry for the following will be accepted from Tuesday, 9 January through to Tuesday, 20 February:
2018 ILCA Laser Radial Men's World Championship (7)
2018 ILCA Laser Under-21 World Championships (11)
2018 ILCA Laser 4.7 Youth World Championships (16)
Applications for entry for two other events will be accepted from Thursday, 1 March through Thursday, 12 April:
2018 ILCA Laser Radial Youth World Championships
2018 ILCA Laser Masters World Championships
Once open entries can be placed on the ILCA web site HERE.
ILCA advises that if you don't apply by the respective closing dates you may have little chance of receiving an entry offer.
ILCA set Australian entry targets for the events which are open are shown in brackets above.
As per ALCA policy  Australian entries will be ranked according to placing in the Oceania & Australian Laser Championships 2018  except for the Masters Worlds entries which will be ranked as per the process linked on the ALCA web site HERE.
The Oceania & Australian Open Laser Championships run from Royal Queensland Yacht Squadron at Manly concluded on 4th January. Eleven of the scheduled 12 races were completed after one full day of racing was lost due to light and variable winds.
In the 75 boat Radial fleet Zac Littlewood WA won six of the eleven races for a 6 point win from New Zealander Josh Armit. Josh is the current World under 17 Laser Champion and was 4th in the Laser Radial Youth Worlds in Medemblik, Netherlands. Yoshihiro Suzuki from Japan was third.
In the Women's event Manami Doi Japan currently World rank 6th won from Zoe Thompson WA and Marlena Berzins NSW. Manami was 8th overall in the Radial fleet.
Michael Compton WA was a comfortable winner in the 4.7′s with five race wins. Wonn Kye Lee from Singapore was the runner up  from Boston Cortis NSW. With a record 62 4.7′s entered in the event competition was fierce.
As expected Matt Wearne WA and Tom Burton NSW were in close company both around the race track and on the scoreboard in the Standards.  Each won four races however Matt finished up just three points ahead of Tom after the eleven races. Mitchell Kennedy QLD had two wins and consistent places to finish a clear third.
There is a more detailed write-up of the series from QLA HERE.
You can see the results for the 4.7′s and Standards HERE  and the Radials HERE . The event web site is HERE.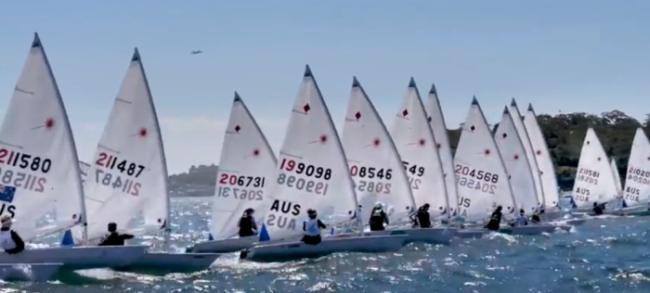 Sail Sydney for the Olympic classes concluded on Thursday 14 December. Sailed from Woollahra Sailing Club the regatta saw good sailing conditions.
Congratulations to Marlena Berzins for her win in the classy Radial Fleet. After a win at Sail Melbourne two weeks ago Tom Burton only managed a 5th in the Standard Rigs after one black and one U flag. NSW & ACT State Champion Finn Alexander was 8th in the strong local and international Laser Standard fleet.
In a closely fought series RSYS sailor Jack Ferguson won Sail Sydney in the 4.7′s. Jack was just two points ahead of Boston Cortis with Ryan Littlechild third.
Sail Sydney results are HERE.
A short video highlights clip is HERE.

In 2017 there were four rule change proposals put forward before the International Laser Class Association membership for vote. All four changes were approved by more than two-thirds of voting members in addition to being approved by the ILCA World Council, the Advisory Council and World Sailing, all of which are required in order to modify class rules.
The four rules will apply from 1 January 2018 are:
1 Electronic Compasses
Rule 22 was changed to allow the use of certain electronic digital compasses that are not GPS Enabled. ILCA will maintain a list of approved compasses on the ILCA website as an interpretation to the Class Rules.
Click here to see electronic compasses approved for use after 1 January 2018 
2 On-board Cameras
A new Rule 28 was added to allow the use of cameras while racing.
3 Shock cord inhaul attachment
Rule 3(v)vi was amended to read "A shock cord may be used as an inhaul on the clew." This change removes the restriction on where the shock cord can be attached in the inhaul system.
4 Cleat in Hiking Strap Control Line
Rule 17(c) was changed to allow the use of one cleat and one turning point in the hiking strap support line. The cleat and turning point must be "free floating" and may not be attached to the hull or the hiking strap.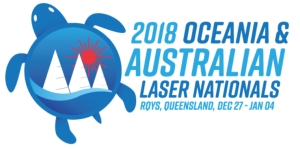 The 2018 Oceania and Australian Open Laser Championships will be held between 27th December 2017 and 4th January 2018 at Royal Queensland Yacht Squadron Manly Queensland.
This Championship is the only Regatta used to rank Australians applying to enter Open, Under 21 and Youth ILCA Laser World Championships in 2018. If you wish to qualify for these events from Australia you need to participate in this event. This event is also a 100 point World Sailing event presenting a great opportunity to gain world ranking points for Australia and all other Oceania Laser sailors closer to home.
This will be a fabulous event run at one of the best sailing venues on the planet.
The Notice of Race for the event is HERE. Standard entries closed at 16.30 on 1st December 2017. Late entries which have an additional $100 fee are now open. Entries can be place HERE. Links for boat measurement booking, event countdown and the regatta web site are HERE.
If you want some practice for the big event at RQYS then the QLA Metropolitan Championship is on 9-10th December. Entry and NoR are HERE.
130 Laser sailors entered for the State Championships held at Double Bay SC. The event combined all age categories Junior Youth Open and Masters. You can see many of their happy faces in Clare Alexander's photo above  just before the event kicked off.
The scheduled six races were completed in good sailing conditions with winds between 9 and 14 knots generally from the east. As usual there was a lot of chop but RO Adam South who is vastly experienced in this role on the Harbour managed to set our traditional trapezoidal course and stay out of the ferry and Harbour traffic lanes. This involved the inner course being close to the Point Piper shore. This gave the local residents and the Laser supporters at Duff Reserve on the point a great view of the racing and it gave the Laser sailors some practice in close quarters racing along the shore and moored yachts.
The rigs were sailed as one fleet so one start each for 4.7, Radial and Standard. The Radial fleet at 60 was at the upper limit and with so many keen and competative sailors on one line there were several general recalls, black flag starts and victims thereof.
It was great to see the record roll up of the 4.7′s in this event and the quality of the sailors and the racing. In the end the girls dominated taking the first three places in a close finish. Kristen Wadley from Townsville SC and RQYS was the eventual winner by just one point from Brooke Wilson RSYS/BDSC, 3 points ahead of Mina Ferguson RSYS/WSC/DBSC.
The ladies also excelled in the Radial fleet with Marlena Berzins DBSC/RSYS taking the championship. Third was Fremantle SC and South of Perth YC sailor Jacinta Ainsworth while the man in the middle was Jordan Makin from Belmont 16′s. Mara Stransky from RQYS Brisbane was a strong contender with two bullets and a 7th place but reflective of the very competitive starts she scored three black flags which placed her out of contention.
In the Standard rig local sailor and recently named Australian Sailing Youth Sailor of the Year Finn Alexander dropped a second as his worst place alongside 5 bullets to win. Second was Brett Beyer who is the current World Laser Masters Champion. Fredrik Westman from Finland was third.
Hearty thanks to the Double Bay Sailing Club and all the volunteers for the great effort and for running a terrific event. Thanks also to RO Adam South who stepped in for Col Chidgey whose wife was taken ill on Friday.
You can see photos of the fleet winners below and the winners of all the divisions are listed HERE.
The full results of the States are linked below.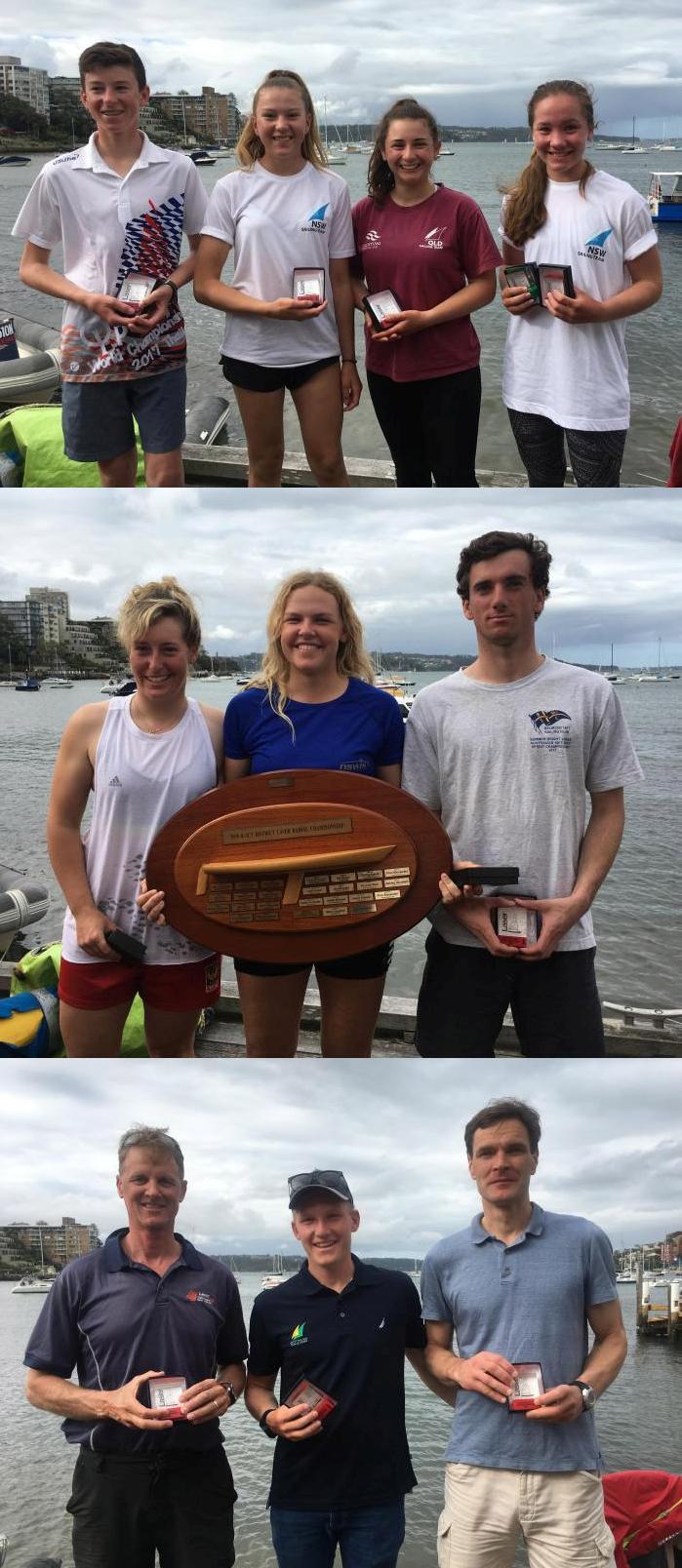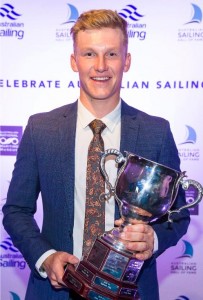 Finn Alexander, has been named Australian Sailing's named Youth Sailor of the Year 2017 at the AS annual awards ceremony on Friday 3 November.
Finn won his award as a result of his convincing performance (by a 19 point margin) in winning the Laser Class Youth World Championship in New Zealand. Since then Finn was 1st Youth (Under21) and fifth overall at the Australian Laser Championships.
"I'm really stoked to pick up Youth Sailor of the Year against a really competitive bunch of young athletes," Finn said.
"For the last few years it's been a pretty long journey for me to try to get to the top of the youths. I'm really happy to have kind of made it through that, with the help of a lot of really great coaches and mentors, my parents and friends.
"I've now fully launched into the Laser standard campaign, I've been racing overseas across this year and it's been really good, learning a lot and making lots of improvements."
Finn has been sailing in Open International events through the year finishing 8th in the 100 boat fleet at the Delta Lloyd Regatta in Holland. Finn was also the only under 20 sailor to qualify for the gold fleet in the ILCA Laser World Championships earlier this year.
Finn just last weekend won the NSW/ACT Laser Championship held at his home club Double Bay.
The gala Laser sailing event the State Championships will be held at Double Bay Sailing Club on the weekend of the 18-19th November 2017.
This year we will be running the State Open including boys, girls, youth and the State Masters in the one event. We plan to have separate starts for Masters in Radial and Standard rigs provided there are sufficient  entries.
The State Masters which we often run as a separate event in February would clash with the big National Masters event which is this year between 9-12th February 2018 at Mooloolaba. Hence the combined event this season.
The Notice of Race for the State Championships is HERE.  The Sailing Instructions are HERE. Entries can be placed at the Enter or Join tab on this site of click HERE. You can also enter up to 11.30am on Saturday at Double Bay SC. The first 150 sailors to register on Saturday will receive a commemorative polo shirt.
Double Bay will be a great venue.  Though the 18 footers will be sailing on the Sunday we will have lots of rigging room using Steyne Park. The club has again arranged parking at the Double Bay Primary School just across the park.
Sailing on iconic (if busy) Sydney Harbour is always a great experience. Come and test your skills and performance against some of the best age category and open Laser sailors in the World at this event.
We expect around 150 entries and you can see who has entered the event HERE.