Applications for entry open Wednesday, 21 January 2015 for the following ILCA World Championship regattas:
2015 Laser Standard Men – World Championship
2015 Laser Masters – World Championships
For both events, the deadline for receiving entry applications for initial allocation of places is 4 March 2015 at 23:59 Central US Time.
You are encouraged to complete an entry application as soon as possible once it becomes available. Please be aware that if you do not apply by 4 March 2015, you may have little chance of receiving an entry offer.
The links below will take you to the event information sites with access to applications and additional information about each championship, including the Notice of Race and the country entry allocations.
2015 Laser Standard Men – World Championship
Dates: Monday, 29 June - Wednesday, 8 July 2015
Venue: Kingston, Ontario, Canada
2015 Laser Masters – World Championships
Dates: Friday, 10 July -  Saturday, 18 July 2015
Venue: Kingston, Ontario, Canada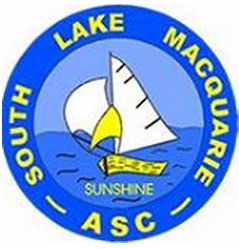 The State Masters Championship is coming up on 7th and 8th February at South Lake Macquarie Sailing Club. The location is here.
This is always a great event and South Lakes at Sunshine a terrific sailing venue. In addition to nearby accommodation sailors can camp on the spacious grounds around the club on Sunshine Park for a small Council imposed fee (circa $30).
Cubes will be awarded for this event.
The Notice of race for the event is here and the Sailing Instructions are here. You can enter online here or on Saturday 7th February until 11.00am at the venue. Entry is $60.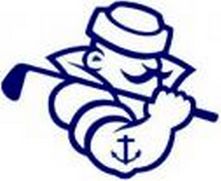 Rob Lowndes has organised the traditional Masters Golf Tournament which this year will be held on Friday 6th February at Morisset Country Club with first tee time at 1.00pm. The Club is on Dora Street (the main drag into Morisset) here.
Some skill at golf is desirable but certainly not essential so come and enjoy lunch and team selection around noon on the day. Cost is $32 each plus $40 if you want a cart (shared between two).
It would be a great help if you let Rob Lowndes know if you are playing at least a week beforehand (SMS 0419 266 257, or email lowndesr@bigpond.net.au). And yes, it is still compulsory for Georges River SC members to turn and show us how it's done.
World number one ranked Laser sailor Tom Burton and world-class Laser sailor, Ash Brunning will be coaching the H2O Team at the  Master's on both race days at SLMASC. Two day coaching and debrief cost will be $200.
To book, email: info@h2o-sports-academy.com or call: 0473 026 445
The National Open and Masters Championship was held over Christmas New Year at Mandurah Offshore Fishing and Sailing Club WA. Sailing conditions were character building with mostly 15 to 25 knot SW'ly (220-230) winds on the Indian Ocean accompanied by large waves on the inside course set further from the shore.
Sailors enjoyed the sometimes wild rides and by and large managed the conditions well. Some of the masters and the younger and lighter sailors however found the going challenging.
There were 170 entries 50 4.7′s, 78 Radials and 42 Standard. The Radials had a split fleet with Gold and Silver fleet finals.
World number one ranked Tom Burton and Perth local Matthew Wearn were in a class of their own at the front of the Standard fleet with Tom winning enough of the races to wrap the series up with two races to go.
Tom acknowledged that this was one of the toughest he had sailed in effectively match racing in 20-25 knots with a very competitive Matthew Wearn. It wasn't until the 3rd day that Matt was able to take a win from Tom and after that was able to win both races on the 5th day where his size and strength proved decisive allowing him to beat Tom to each top mark. Queenslander Ryan Palk was third on a count back with Matthew Wearn's clubmate Luke Elliott fourth. Matthew Wearn was the winner of the Standard Youth division.
The Radials were dominated by WA sailors with Alistair Young taking a narrow win from Tristan Brown with Conor Nicholas third. Tristan was also the winner of the Youth cube. Ashley Stoddart RQYS easily won the women's event finishing a very creditable 5th overall.
Brody Riley from McCrae YC Victoria had a convincing win in the 4.7′s with WA local Caelin Winchcombe runner up after a countback from NSW sailor Jordan Makin.
Masters winners were in the Standard Chris Caldecoat NSW Apprentice, Grant Loveday WA Master, Gavin Dagley Vic GM and in the Radials Mark Kennedy Qld M, Jeff Loosemore NSW GM and David Edmiston NSW GGM.
The full results for the series are here and photos by Rick Steuart are here.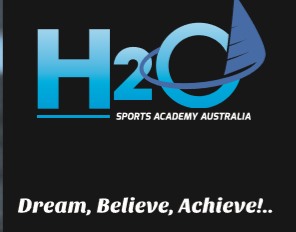 The H2O Sports Academy Australia is a new training centre based within the NSW Sport and Recreation Centre at Point Wolstoncroft on Lake Macquarie in NSW. Run by a team of Olympic sailors and windsurfers with the shared aim of inspiring and motivating others whilst sharing their knowledge and skills. Like them on Facebook: https://www.facebook.com/h2osportsacademy
PSA Laser Training will be held at H2O with 16 two day sessions programmed in February and March 2015. ISAF World number one ranked Tom Burton, Ash Brunning and Australian Olympic Team – Laser Radial Coach, Laura Baldwin-Caldecoat will be running the sessions. The full session details are on the H2O flyer here.
Charter boats are available or BYO.

Onsite self-catered or catered accommodation for all the family is available in March.

There's a playground, giant board games, beach valley ball, stand-up-paddle and kayaking to keep your family entertained whilst you attend the Laser Training.

Cost is $200 per sailor per weekend (2 days 10am-4pm Saturday and 10-3pm Sunday)
You can book now my emailing info@h2o-sports-academy.com or call 0473 026 445.
H2O has places on its Holiday Sailing Camps for kids 8-18years on 19-23 January.
5-days of fun sailing, windsurfing, biking, swimming and other fun games such as beach valley ball, giant board games, playground, Hobie adventure sailing to Shingle Splitters for picnic, Hobie sail to Rafferties Resort for Ice Cream and for the main part sailing course in one of the following groups;
Learn to Sail
Learn to Race
Race Training
Non-residential camp, 9am-4pm price is $295.
Equipment: Laser 4.7 and Optimists
Bookings, email: info@h2o-sports-academy.com or call: 0473 026 445
There were 96 entries for the NSW/ACT States held over the weekend 22/23 November at Belmont 16′s. There were entries from all over the state with a number of interstate and international competitors (New Zealand, Italy and Singapore).
The Belmont 16′s Sailing Club is arguably the best set up on the best stretch of water for dingy sailing in the state. The weather and breezes were excellent relatively steady with just an element of switch to keep competitors on their toes.
The Belmont 16′s team of volunteers and our Race Officer Andrew McLachlan did a great job all weekend. The breezes were between 10 to 16 knots dominantly easterly. Courses were set well away from land eliminating any local knowledge advantage. . The race organisation and management could not be faulted.
There were 32 Standards entered and Colin Cheng from Singapore Sailing was the convincing winner with four firsts and two second places. Another international Italian Marco Gallo was second with Scott Sydney third. The youth winner (U21) was Thomas Vincent from McCrae YC in Melbourne. Thomas, who is a frequent participant in NSW/ACT events, was a creditable 8th overall in the hot Standard fleet.
Ashley Stoddart from Royal Queensland Yacht Squadron Australia's number one ranked Laser sailor convincingly won in the 49 boat Radial fleet from last years champion Finn Alexander from Double Bay SC. Finn was the first youth (U19) as well. Daniel Self another up and comming young sailor from RQYS was third. Ashley Stoddart also took the cube for first woman with Vanessa Dudley taking the women's runner up cube. Vanessa was 8th overall in the Radials.
The 4.7′s saw a trifector for Royal Prince Alfred Sailing Club with the Anthony Hawke taking the winners cube on a countback. Nathan Bryant and Anthony had exactly the same results to count 3 firsts and 2 seconds however Anthony won the last race which made him the winner. Charley Wells was third and was the first female in the 4.7′s. There were 14 entries in the 4.7′s.
Thanks to the volunteers officials and helpers for making this event the great success that it was.
The full results are  here
There are some great photos by Chris Munro of Redhotshotz on Facebook – Saturday here Sunday here. You can buy the photos from Chris by emailing him at redhotshotz@bigpond.com quoting the photo number which you can see when you click on the thumbnail. Individual images are $20 or $80 for all the images Chris has of your boat.
Greg Cooke took many photos of the event as well and you can see his work on the follwing links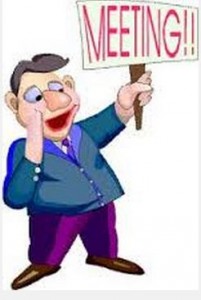 The Annual General Meeting of the NSW/ACT laser Association will be held at 9.00am at Belmont 16′s on Sunday 23rd November.
We normally hold the AGM co-incident with the Coasts in October however this was not possible this year for a number of reasons.
Come along and have your say about how our events and affairs are run.
We will be hosting the Nationals next year in NSW/ACT and we are looking for ideas and  volunteers to make these events truly great.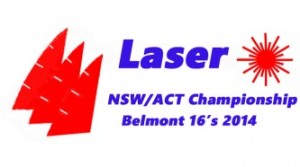 Entries are open for the NSW/ACT State Championship to be held at Belmont 16′s on 22nd and 23rd November.
This will be a great regatta at an iconic sailing venue so don't miss it. You will not get better venue specific practice than this for the Australian Laser Championship which will be held there December/January 2015/16.
As usual this event is an open cube event for Standard, Radial and 4.7 Lasers.
The Notice of Race is here and you can enter the regatta on the Enter or Join ….. tab on the web site or click here.

Sail Sydney is on again this year from 2nd to 7th December at Woollahra Sailing Club.
This year there are two streams with the Olympic level Standard and Radial sailors sailing an 8 race program from Tuesday 2nd to Thursday 4th December followed by an open regatta for Standards and Radials with 6 races on Saturday 6th and Sunday 7th. The open regatta includes categories for Masters. The 4.7′s have an 8 race schedule from Friday 5th to Sunday 7th. The Olympic level sailors will decamp to Sail Melbourne after Thursday to compete in Sail Melbourne which starts on 7th December. YNSW say that Non Olympic level sailors are able to enter the Tuesday to Thursday events.
Entry is $165 for the Olympic level and 4.7 events and $110 for the Saturday and Sunday events. You can enter here. Official entries close at 1700hrs on 19th November 2014. Late entries incur a $50 additional fee.
The Notice of Race is here and an Amendment to NoR which concerns Laser participants is here.
Four years ago the Marist Sisters College boat  shed at Woolwich burnt down abruptly ending their mainly Laser based sailing program on the Lane Cove River.
They are now about to rebuild their shed and are looking for help to equip the Lasers they have. They are running a sausage sizzle between 6 and 7.30pm on Friday 14th November.
If you are interested or can help there is more information here.
Australia and in particular NSW/ACT Laser Masters Sailors did very well in the recently completed World Masters in Hyères France. With 50 sailors among the over 500 competitors Australian had a strong team and came home with three wins and four second places in the various fleets.
The series was held over 7 days on two courses on the Mediterranean off the port of Hyères from 4th October. With two races per day scdeduled and few contrary breezes in the early days the lay day was cancelled. In the end all 12 races were completed on the Standard's course and 10 on the Radial. Once the weather settled the breezes were excellent around 15-18 knots with a high steep Mediterranean swell making down wind rides exciting. You can see some of the action from photos taken by Thom Touw here.
Outstanding was Brett Bayer who won in the 116 boat Standard Masters not needing to sail on the last day. Other winners were Mark Bethwaite DBSC in the Standard GGM's and Stephen Walsh Narrabeen Lakes SC in the 4.7′s. Steve had a tough start to his campaign when all his gear including his 4.7 bottom section went missing in transit. The gear was recovered just in time for him to complete measurement.
In the Radials Jeff Loosemore from MHASC was just pipped by 2 points by Kiwi legend Michael Keeton in the Grandmasters. Jeff has been a sailing grey nomad through the European summer competing in many of the big Laser events in that busy calendar. His performance reflected the work and experience gained. Vanessa Dudley MHASC was fourth in the GM Radial and was the first woman. Queenslander Mark Kennedy was just pipped on a coutback for the Radial Masters by Stephen Cockerill of Rooster fame.
Rob Lowndes MHASC was second in the Radial GGM's which had 77 boats on the line for each of its 10 races. Rob sailed well to beat last year's winner and Laser legend Peter Seidenberg from the USA but was not good enough this time to best Keith Wilkins from Great Britian. Kerry Waraker RQYS was second in the Legends (over 75) division.
Vanessa Dudley was announced as Female Sailor of the Year at the YA awards night on 17th October.
Vanessa was honoured for her preformances in Laser sailing but also for her 18 Sydney Hobarts  and success on Ragamuffin 100.
Vanessa's achievements in the Laser include her win the Grand Masters at the World Masters in Oman last year. She was fourth in the event this year in Hyères France. Vanessa is the current Australian Grand Master Women's Champion and place third in the NSW Laser Radial Open Championship.
Congratulations to Vanessa – well deserved.
The Coast Championship run at Gosford over 18th and 19th October saw 61 competitors (7 4.7′s, 25 Radials and 29 Standards). The weekend was bookened weather wise by two roaring southerlies around 25 knots on Friday and Monday but over the weekend in nice sunny weather the wind only hit around 12 knots on Sunday (NE) and 8 on Saturday (E). The conditions on Saturday were challenging for for sailors and for RO Peter Walsh and his team with the wind constantly moving 40 degrees over the course. Sunday, after a delayed start, was much kinder provided fairer and close racing on the tight course.
Scott Sydney from Woollahra SC showed the Standard fleet a clean pair of heels winning five of the six races. Sean Feeney from MHASC was a comfortable second taking a win from Scott on Sunday. Third was local Jack Sprague returning from a stint in Europe and showing he has not forgotten how to sail a Laser fast. Thomas Vincent from McCrae YC Victoria who is a frequent competitor in our events was the first under 21 Standard and finished a creditable 4th in his first season after graduating from the Radial.
In the Radial Stuart Penderleith from MHASC was the clear winner with four bullets. Finn Alexander from Double Bay SC was second closely followed by Woollahra SC's Zac Skulander. Annie Eastgate from Royal Queensland Yacht Squadron was the first female and seventh overall.
Nic Anderson from RPAYC won in the closely contested 4.7′s from fellow clubmate Nathan Bryant and local up and coming Laser sailor Ashleigh Robson.
Thanks to Gosford Sailing Club Sailing Manager Peter Walsh and his on water team for running this event. Thanks also to Kath Herrmann for the series scoring and Dave Edmiston for registration and logistics support.
The full results for the series are here
There are some photos taken on Sunday by Alison Meech which can be viewed here.
Final results are here.
The 2014/15 Coast Championship will be held on 18 and 19 October at Gosford Sailing Club.  Notice of race, sailing instructions and link to on-line entry on the Events page.
A reminder that 2014/15 membership is now due.  Click on the Enter or Join tab to join the Association.
60 Lasers and two Finns competed in the NBSS final three races at Double Bay SC.
The three races complete the NBSS Sprint Series with the overall winners being
Sean Feeney MHASC in the Standards

Vanessa Dudley also from MHASC Radial

Jordan Makin Gosford SC 4.7
The full results for the NBSailSports Sprint Series are here.
There was plenty of wind , wind shifts and excitement on the day. The winners were:
Standard
1. Marcus Whitley 1,1,3
2. Matt Wenke 3,3,1
3. Mark Bethwaite 2,2,5
Radial
1. Stuart Penderleith 2,3,1
2. FinnAlexander 1,2,6
3. Dennis Kulmann 6,1,3
4.7
1. Jordan Makin 3,1,1
2. Nathan Bryant 2,3,3
3. Marlena Berzins 1,2,DNF
The full results for the day are here.
Thanks to Luke Parker and the team at Double Bay Sailing Club for the great organisation both on and off the water. Thanks especially to Ashley Deacon for managing the event desk.
Fittingly the draw for the new Laser trade in was won by Daryl Lawrence from Double Bay Sailing Club. Daryl's current boat is 163892 and a new Laser will be  a long desired step up for him. The fitting name for Darryl's old boat is Fluke.
Other draw winners were;
New Laser Sail Peter Stephinson

Top and Bottom Laser Sections Alan Downes

Top Mast Section Ryan McLoughlan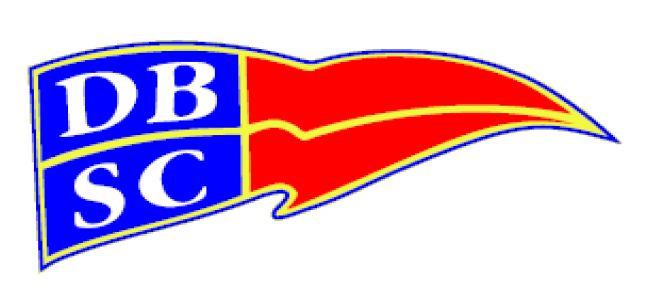 The NBSailSports Winter Sprint Series concludes on Saturday 20th September, 2014 at Double Bay Sailing Club, Bay Street Double Bay.
There will be three races with the first warning signal at 1.00pm. There will be a briefing at 12.00 noon. The Sailing Instructions are online here.  There are also links and information on the Double Bay Sailing Club web site here.
Entry is $20 which can be placed online by credit card with NBSailsports here or in cash at Double Bay Sailing Club on race day. You will need to sign on and off however DBSC will accept call on and off at the start boat for those sailors who are rigging elsewhere around the Harbour. You will need to have entered online if you plan to sail over to DBSC as there are no credit card payment facilities on the start boat and wet banknotes are not accepted either.
The results for the series after 9 races are here.
There will be a BBQ after racing and the presentation of prizes and the draw for the fabulous NBSailSports new Laser. Don't miss it.