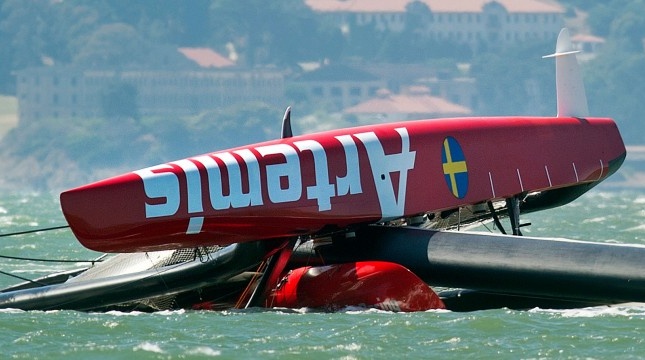 Sad news dual British Olympic Medalist Andrew "Bart" Simpson drowned when trapped under Swedish AC72 Artemis after it broke a main beam when sail training in San Francisco on Thursday 9th May.
More information is in the New York Times here and here.
Photo from AAP.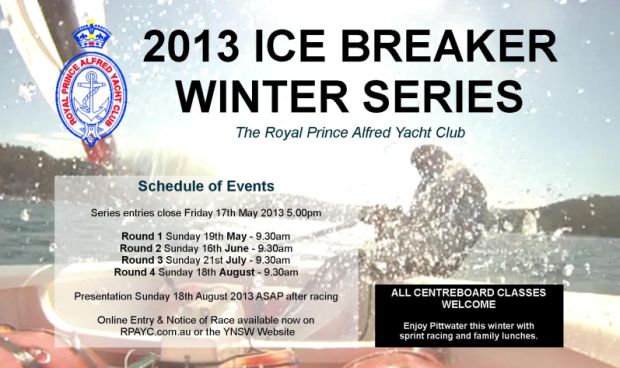 The RPAYC is hosting its annual Ice Breaker Series this winter starting on the
19th of May 2013.
You can see the Notice of Race here or contact Sailing Administrator Jenna Walters by phone on 02 9998 3762 or email jennaw@rpayc.com.au.
On 23rd April  the International Laser Class Association ILCA issued a statement covering the ongoing dispute over Laser licensing. The statement outlines actions taken by ILCA and the International Sailing Federation ISAF to ensure the continued supply of Laser boats and equipment and retention of the Laser as an international and Olympic class. You can see the ILCA statement in full here.
Co-incident with the ILCA statement ISAF issued its own complimentary statement which you can see here.
The following message is from James Stewart from Lane Cove 12′ Laser Fleet
"I just wanted to get a handle on how our Arnold Metcalf stacks up against other laser sailors in NSW/ACT or even Australia, He just completed another season with us here in a Radial at Lane Cove & started in 18 races & completed 13 of them.
He was out quite a few times in winds of 20 knots + and finished 3rd in the Radial club Championship.
Not so remarkable you might say, but Arnold is 84 years old being born on 12/12/28. He started sailing at Lane Cove in a Laser around 1975-76, so he was a late starter at about age 48.
It would be good to find out if there are any others of his age sailing.  Maybe he is the eldest ?"
One guy who might qualify except he is a Yank is Harry Heckel who completed his second circumnavigation at age 89.
Then there is the "Cheat the nursing home die on your Laser" man. A mere pup at 64 you can see his blog here and his 50 rules of Laser sailing here.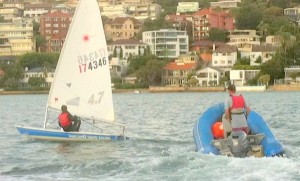 Woollahra Sailing Club has purchased Laser 4.7 rigs for youth sailors for use on club boats or for loan to members who have a Laser in the family. Jakub, the new Club Coach, is leading youth training with an active youth classes after school and weekends to fit youth availability. Youth members are encouraged to join the youth group in the programs.
The Club will;
Run a weekday after school coaching and race Sunday program starting in May and running for 8 weeks.
Have two school holidays 4 day camps which are now fully booked.
Run winter sailing on Sunday at 10.00am starting on 16th June.
Run morning (light weather) practice races on Sundays a.m.
Contact Woollahra Sailing Club if you are interested.
Telephone 9371 9805
Email sail@woollahrasailingclub.com.au
The dates and venues for next season's events are set. You can lock these into your own and your club's calendars. There is a print friendly version of the event list which includes national and international events here.
Online entries for these events are now open. Just click the Enter or Join tab and select the event.
We are always looking out for good venues for these events so if your club would is interested to host a regatta in the future please let us know.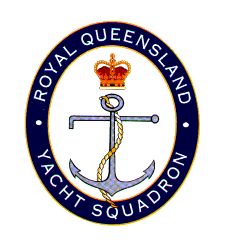 The South Pacific Masters event is coming on 12th to 15th July at Royal Queensland Yachts Squadron.
This is a great winter event.
The Notice of Race, which includes accommodation information, is linked in our Events Page and you can see it here.
The NoR says that there is limited camping available on the RQYS site. We are assured by Kerry Waraker that this is still the case though you will need to book through the RQYS on 07 3396 8666.
There are lots of accommodation options convenient to RQYS and there are some charter boats available for sailors who want to fly in and fly out for the four day event.
The latest edition of the quarterly ILCA publication Laser World is now available for viewing online or to download on the ILCA web site here.
This issue features an interview with the great Brazilian Laser sailor Robert Scheidt.
Also on the ILCA web site here is an update on the attempt by Bruce Kirby to resolve the long running (four year) dispute with European Laser builder LaserPerformance.
If you are interested to know more about this dispute and the legal action instituted by Bruce Kirby to attempt to resolve it then Sail World has a useful summary here.