Olympics
The Sailing Schedule & Australian Sailing Team
The schedule and Australian Olympic sailing team information is Here.  Sailing is scheduled between 1.00pm and 7.00pm AEST each day.
The Track and Field Guide
Southeast Sailboats in the UK has a race track conditions and form guide for the Laser Men's event Here and World Sailing has the guide to the top ranked Laser Women Here.
How to Watch Sailing Live
Channel 7 has the broadcast and streaming rights to the Olympics in Australia. Highlight sports will largely be shown on 7′s free to air channels. In addition there are 7plus apps which will have over 40 channels streaming live action from the Games. See the post here for more information on how to view these streams.
You can see the sailing channel at 7plus.com.au/olympic-games-tokyo-sailing.
News and Results
World Sailing has setup a site with all the Tokyo Olympic Sailing information at https://tokyo2020.sailing.org/news/ . Results are at https://tokyo2020.sailing.org/results-centre/
From RO Hugh Leicester
1 August Day 8
Not much to say as I am sure everyone is aware the scheduled medal race times are Men 15.30 AEST and Women 16.30 AEST.
Nacras will be on TV from 1300 AEST on the Enoshima course where our races will be held.
Forecast for today 11-15 gusting 14-19 S-SSE. Yesterday we had a SSW breeze between 8-11 knots, this breeze didn't fill in until around 1300 and turned from 230 to 190 as it filled in. Hopefully this will all happen a bit earlier today as there are almost clear skies today as opposed to yesterday's heavy cloud cover.
Signing off from Tokyo
Hugh
31 July Day 7
No Laser racing scheduled today.
30 July Day 6
On what should of been a reasonably easy day with sea breeze on gradient, it turned out not to be. We had current pushing the sailors over the line resulting in 3 general recalls over the day with the middle of the line being where all recalls were generated. Other than that the breeze was fairly steady in the 10-15 knot range.
Today
We are on Enoshima again with live coverage of the two women's races starting at 1pm AEST and the first of the men's races at 330pm AEST. Today's forecast is for a light offshore breeze early which should die and a light sea breeze of 6-8 knots is expected. Courses for today will be windward/ leeward.
Tomorrow is a reserve day in case we cannot complete the 10 race schedule before the medal race.
Early forecast for medal race is 15 knot N-NE which is the offshore wind.
29 July Day 5
On the last day of racing for Lasers (27 July) we had a very interesting day. Racing started in a 15-20 knot northerly and the women completed their two races. For the men as the leaders were on the leg from mark 3 to finish the breeze swung to 050 for about10 minutes during which the whole fleet finished and then dropped to 2 knots. This forced an AP on the additional third race which to catch up the lost race from the first day.
After about an hour the northerly filled in again and we set up and got a race under way. Half way up the first leg the wind swung left to 240 forcing an abandonment and a course reset.
After a general recall  racing finally got under way again under black flag four minutes before the cut off time for starting a race. The race ended up being sailed in the steadiest wind the sailors had encountered for the week.
As always  happens on a reserve day the sailing conditions were glam. 15-20 knot sea breeze  from 190 deg which built up lovely waves for surfing. Fortunately the forecast for today is almost the same
Today we are on Fujisawa Course again with both fleets at the same time, with the men to start first this time.
Tomorrow's racing is scheduled for Enoshima Course again with live coverage, this will be confirmed this evening.
28 July Day 4
No Laser racing scheduled today.
27 July Day 3
As you all probably saw yesterday was your typical offshore breeze with massive opportunities to win or lose. Women's second race which wasn't televised turned through 25 degrees but with consecutive course changes including relaying a gate we managed to realign the course and move it away from the break wall to maintain the integrity of the race. For those that don't know Matt Wearn broke his vang in yesterday's first race which resulted in his poor place.
Today
Racing scheduled for Fujisawa which is one of the offshore courses, with conditions forecast for 15 knots gusting 20 with 2 metre seas and rain as we had a weak typhoon cross the coast last night.
Both classes are on the race track at the same time today meaning we will be sailing the more traditional trapezoid course. The schedule is for two races for the women with the men to sail three to catch up with the race we lost on day one.
Tomorrow is scheduled a reserve day.
26 July Day 2
Racing today will be on the medal race course Enoshima, This is by far the smallest of the race areas so we may be forced into multiple laps dependent on the wind direction.
Men's race first today 1 pm AEST both races are scheduled for live broadcast, the women follow at 3:30 AEST with their first race to be live.
Early thoughts are to catch up the abandoned men's race on Wednesday (scheduled reserve day)
Haven't received latest weather yet but forecast was for offshore breeze again but not getting a sea breeze filling in.
25 July Day 1 
Today's forecast is  NE-ENE. 5-7 knots 1100-1300 then ENE. 11-14 knots after 1400
Today's Schedule racing on Kamakura Course Area. Forecast is offshore breeze and this is closest area to shore expectation is we will be dealing with quite an unstable wind.
1200 – Ladies One Person Dinghy. Races 1&2 target time for each race is 50mins.
1430 Men's Lightweight One Person Dinghy Races 1&2.
Australian Sailing On Site Reports
4 August Day 11
Gold in 470s see Australian Sailing final day wrap Here.
3 August Day 10
See the medal race results and final two 470 fleet races today from AS Here.
2 August Day 9
No racing today wind took the day off and so did the sailors.
Tomorrow looks more promising and final two 470 fleet races and the Finn, 49′er and Nacra medal races can go ahead.
1 August Day 8
Tokyo Olympic recap – Day 8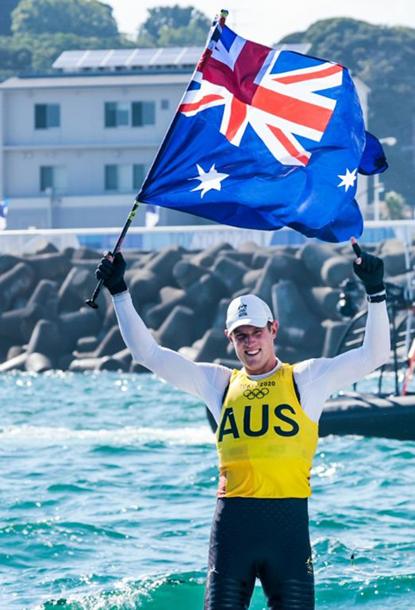 Australia's Matt Wearn has maintained Australia's dominance in the Laser Class at the Olympic Games, today winning the nation's third consecutive Gold in the event.
Wearn overcame a nervous start to the regatta to completely dominate the middle and late stages to have the Gold wrapped up in advance of today's Medal Race.
"Probably relief," was his first emotion after securing the Olympic crown. "It has been quite a long journey and a particularly stressful week. It wasn't the ideal start to a regatta, so I couldn't have felt better than locking away a gold medal before the Medal Race."
The man behind Australia's three consecutive Laser gold medals is master coach Michael Blackburn.
"Quite a thrill to get it done early," Blackburn said before today's Medal Race. "It has been a goal of mine to have someone win the regatta before the medal race, because the medal races can be a bit iffy sometimes. To get it done in such a good style and quite unexpectedly is quite the thrill."
Blackburn will now go down as Olympic coaching great, and he credits the rest of the Australian Sailing Team Laser squad and a fake review conducted 12 months ago with helping today's win.
See the AS day report covering all classes Here.
31 July Day 7
See the AS day report covering all classes Here.
30 July Day 6
Matt Wearn
Matt Wearn has continued Australia's legacy of success in the Laser class at the Olympic Games, with the Western Australian assuring Australia's third straight Gold Medal in the class.
The likeable lad from Perth has an insurmountable 22-point lead after the final two races of the 10-race qualifying series. Wearn will officially race for the Gold in the Medal Race this Sunday, but just needs to show every endeavour to start and finish the race to take out the crown.
"I'm just over the moon," said Wearn as he came ashore. "It seems a bit surreal right about now. There are still two days left of our competition including the Medal Race to go, so to do it before that and have it signed, sealed and delivered is all you can ask for really."
He has done it the hard way, passing up on a potential AFL career and moving from Perth to Sydney at a young age to chase his dream of Olympic Gold. He also started the regatta with two poor results, but fought his way back and is tonight pinching himself.
Mara Stansky
22-year-old Mara Stransky shocked the world on the final day of her first Olympic campaign today. She set aside the disappointment of yesterday's performances to put together the race day of her life, finishing her regatta with a third and a win in the final fleet race.
It was mixed emotions for Stransky, as despite the stunning results today they were still not enough to overturn a deficit and qualify for Sunday's medal race. "I am stoked that I did finally have a good day, but I am just disappointed that it didn't happen a bit sooner," said Stransky after racing. "It's kind of mixed feelings because if I had gotten myself together a little bit earlier it could be a different story over the next couple of days, but I was going to be a bit down in quarantine if I hadn't done what I did today."
The results are no surprise to those who know Mara, her resilience and ability to bounce back are becoming her trademarks. "They are things that I do pride myself on. Yesterday I was disappointed that I wasn't able to show them, but I did it today as I felt like I had things to make up for myself."
See the full AS day report covering all classes Here.
29 July Day 5
Matt Wearn
Matt Wearn showed the world what he is made of today, with the Western Australian sailor adding two bullets to his scorecard that now sees him leading the Laser competition by 15 points with three races to come.
"You're never going to feel bad coming off the water after two wins," said Wearn in his usual understated manner. "There was a bit more breeze today which made for great sailing. It felt like I had underperformed earlier in the week so it was nice to be able to go out put together some performances like I would expect myself to do."
The weather played in to Wearn's hands, but he was more than ready to make the most of them when they presented.
"You get days like that which Australians absolutely love with a bit of breeze and some nice waves," he concluded. "It was nice to unleash a bit of speed and do what I want to do. I had a couple of good starts which helped set up my races, but I know that there is still plenty of racing left."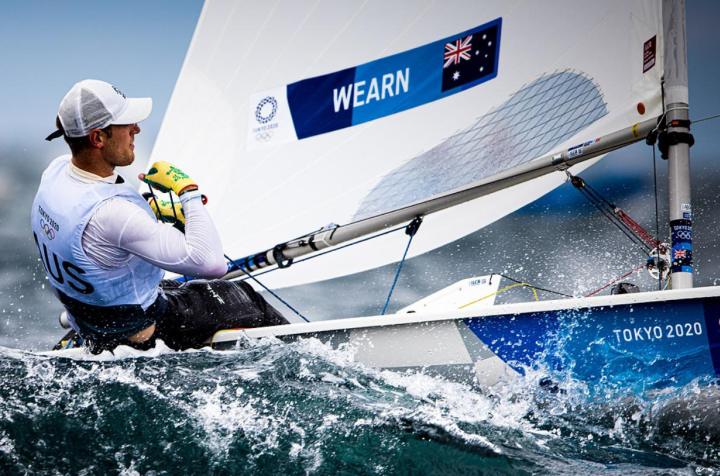 Mara Stransky
Young Laser Radial sailor Mara Stransky is still sitting in the top 20 at her debut Olympic Games and is sitting ready to attack her final day of fleet races tomorrow.
Some youthful exuberance saw her fall afoul of the judges in the first race to collect a black flag, but was able to collect herself to post a solid 24th in the second race of the day.
Mara will hit the start line for Race 9 at 1:05pm AEST tomorrow.
Full AS summary for today is Here.
28 July Day 4
No Lasers scheduled today. Good starts made by Australians in other events. Check AS summary Here.
27 July Day 3
A Good Day for Matt Wearn
Perth's Matt Wearn stormed back in to contention in the Laser class today, posting three top-four finishes to climb from 12th overall to 2nd by the end of the day. Wearn worked his way through the breezes best on a tricky day, and now has his sights set on Cyprus' Pavlos Kontides who holds a nine point lead.
"It was good to get a bit of momentum and to feel like I'm starting to race like I know I can," said Wearn after racing. "I came in feeling a bit frustrated with my precious races, so it was good to get that monkey off my back. It was difficult out there but to walk away in second is good, it's confidence-building."
The Lasers have a day off tomorrow before returning to action on Thursday with two more races.
Mara Stransky
Royal Queensland Yacht Squadron sailor Mara Stransky overcame a couple of slow starts to post a pair of respectable scores on her third day of racing today.
"I had a windward/leeward incident with the Swiss girl and had to do a 720 turn," said Stransky of her issues early in the first race. "I was a very long way behind everyone to begin with, but I thought it was a good chance to work on some mental toughness to see how many boats I could catch back again."
And how did she go about getting herself in the right frame of mind to make her comeback?
"Mostly I was singing to myself. I've had races like that before and there's been times where I've not been in the right mindset and just stayed there. But there have been other times where I've made some good comebacks so I knew I could do it.
"It's kind of hard that its my first event back in 18 months and it's the Olympic games so its pretty important," finished Stransky. "There's just a whole lot of things that I haven't experienced in a while to do with racing in a big fleet, so there's a bit of ironing out to do but I'm alright."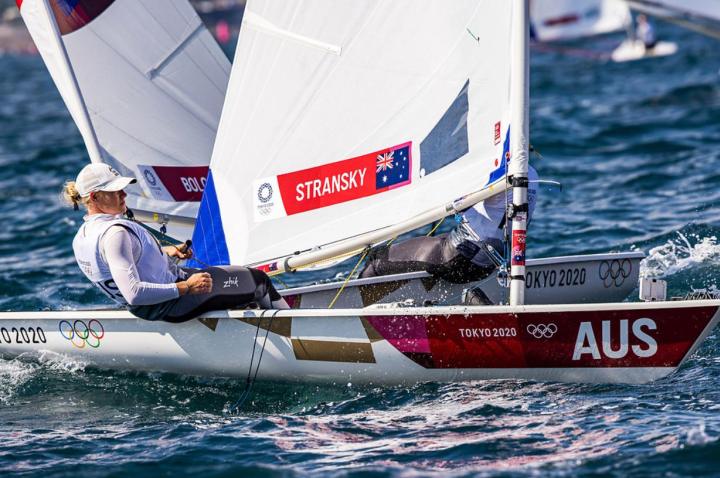 Pre-race comments by Iain Murray
28 July Day 4
Day 4 Weather
"Today brings the wind back to a more normal direction; coming onshore out of the south-west. We are expecting anywhere from 10 to over 20 knots depending on how it mixes and comes down. It looks to be a more normal day with strong winds for Enoshima.
These conditions are similar to those that we grow up with in the Southern Hemisphere, which will put a smile on the faces of our athletes.
The wind here is already in the south-west and it will build throughout the day. It's essentially Japan's equivalent of a summer day with a nor'easter back home."
Day 4 Preview
"Today the Laser classes will have their first rest day after a particularly big day for the men with three races and some big waits yesterday. Those two classes are now over half way through their program; having completed six of their ten races.
We will also see the skiffs back in action, as well as getting our first look at the Nacras (three races) and the Men's and Women's 470 teams (two races each). We have a huge number of athletes out on the water today so it is going to be another important day for the squad as a whole."
27 July Day 4
Day 3 Weather
"We are caught up in the outskirts of this mild typhoon that has come in over Tokyo. We are seeing the remnants of that this morning as we are covered in thick cloud, it's raining and we are expecting a volatile wind in the 10-20 knot range with substantial shifts in the wind direction.
It's going to be an action packed day, it's going to be very difficult to get a handle on as it is not a typical day by any means."
Today's Events
"Today the Laser classes will have their first rest day after a particularly big day for the men with three races and some big waits yesterday. Those two classes are now over half way through their program; having completed six of their ten races.
We will also see the skiffs back in action, as well as getting our first look at the Nacras (three races) and the Men's and Women's 470 teams (two races each). We have a huge number of athletes out on the water today so it is going to be another important day for the squad as a whole."
Mara Stansky
"Mara is just at the start of a long sailing journey. Today we are expecting her to go out there and put it all to the test in a confident and aggressive way. We saw that on display yesterday with her leading the second race, and the learnings out of that were to keep her flamboyance going and not become conservative.
I think you will see her active and aggressive on the race course today."
Matt Wearn
"Today is a huge day for Matt. He has three races and it is probably the single most important raceday in his life so far.
It is going to be a day of big scores in the Laser fleet. It will be a real test of skills to get all of these shifts, race positioning, strategies and tactics right across three races. Matt is in a very good place, he goes in to today with confidence in himself and hopefully we will see three very solid scores at the end of the day."
26 July Day 2 
Mixed day for Matt
Perth sailor Matt Wearn posted a mixed bag of results on day two, as he was out to make up for a 17th place finish in his one race yesterday.
"I went out today to try and get some points back after a rough first race of the regatta," said Wearn. "In the first race I got a penalty before the start so I had to exonerate that. I was on the back foot but was working my back when I had a gear failure so went backwards again."
Wearn put himself right back in contention after posting a second in the day's second race, a score he will no doubt keep on his Olympic race card.
"I started to handle the conditions a little bit better and found my way up to the front of the fleet to finish second," continued Wearn. "Hopefully that's the way things go for the rest of the regatta"
Mara moving on Up
Young Queenslander Mara Stransky got the full Olympic experience in her two races today. A missed start in her first race was followed by a blistering second race which she led in stages before finishing 10th.
"In the first race I was just a little bit out of touch with how early a big fleet racks up and I had an absolute shocker of a start," said Stransky after racing. "But I managed come back fairly well up the first beat and got a little bit lost for a while after that but all in all I think it was a pretty good comeback."
She did not let that phase her though. "I was pretty frustrated after the first one and Tristan (coach Tristan Brown) really helped set me straight before the second race," she continued. "I set myself up quite well in the beginning and put myself in a position to be leading after two laps, but it was a tricky day to protect a lead and I didn't manage to do it or figure out what was going on.
"I'd love to say that I loved every minute and that it was super fun, but I probably loved about two minutes of it and it was seriously hard and super frustrating," she concluded. "But it's the Games and I think you just have to expect the unexpected and we've certainly had that."
Pre-race Comments by Iain Murray
Today we have exceptionally tricky weather with the breeze out of the north/north-east. At times it'll be light and variable, but the confidence in any weather forecasting is exceptionally low because of the situation with the two severe weather systems on either side of us. They are creating a trough between us which makes it very difficult to predict what is going on. It looks like a tricky day ahead for competitors and officials, particularly later in the afternoon.
We are expecting breezes somewhere coming from the north/north-east, in the region of nine knots at the time of Matt's race.
Today Matt will go to the racecourse with hopefully a discard on his card already, so he will engage the fleet in a normal way that he would normally race. We expect Matt to be on full song today.
Yesterday Mara showed some glimpses of good speed and her capability of getting good starts, particularly in that first race.
As we have seen, she is more than able to put good races together, so today Mara will be rightly confident that she in in a position to make the most of the conditions and race another solid day.
25 July Day 1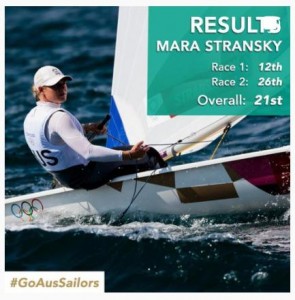 Today we finally start the long-awaited Tokyo Olympic Games. This has been a very long campaign for all of these athletes, and what has been so different is that most of the team were selected over a year ago. They have dealt with the postponement and of course not having been able to compete overseas for quite some time.
But the athletes are beautifully prepared and are in great spirits. They have all used the time incredibly effectively at home to improve every facet of their campaigns, working on their areas of weakness and further tuning their strengths.
So here we find ourselves on Day One of Tokyo 2020, and I am pleased to say that the team is fully prepared and ready to race.
The whole time we've been here we've been practicing in light seabreezes from the southerly direction. Today we are confronted with a totally different scenario with the breeze from the ENE and moving further around to the east later in the day. The breeze is exceptionally light and coming off the land so it is going to be a very tricky day. This is all a part of the weather that has been brought upon us by the typhoon that is to the south-west of us over Taiwan and the end of Japan.
Mara is our first athlete out on the water today on the Kamakura course where they will sail two races. Mara has taken the last year and grasped it and used it exceptionally well. Today she will go to the race course ready to attack and enjoy her first Olympic experience.
Matt Wearn has prepared as well as any Australian athlete has prepared. He has worked incredibly hard on improving the parts of him game that needed improving was predominantly the light air sailing and has brought himself to be be super competitive in those conditions. Today Matt will go to the racecourse and do what Matt Wearn does. He will be consistent and bring home consistent scores to work towards his goal of an Olympic gold medal.
Post Race Day 1
Tricky start for debutant Wearn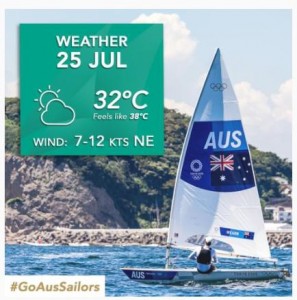 Another making their Olympic debut today was Laser sailor Matt Wearn. Matt finished 17th in the only race for the day after a significant shift in the wind during the second race forced a postponement.
"Matt got a nice start in the middle of the line, but a few little things didn't go his way – a port tack, a bad cross here or there and then went the wrong way up the course as well didn't help," said Wearn's coach Michael Blackburn.
"The leaders came out of the right hand side of the fleet and at one stage Matt was near guys who led around the top and then he'd hit a bit of low pressure and some other guys got a bit more pressure. So there are 5-8% differences in wind speed or a few degrees difference in wind direction making a big difference and Matt was just on the wrong side of those by a little bit."
On tomorrow's forecast Blackburn said "It is for more of the offshore winds tomorrow, so that will be quite shifty and variable which can help keep all the competitor scores a bit higher which might help us. I think Matt is in a good place going in to the races which was reflected in the starts he got today."
Mara makes her Olympic racing debut
Mara Stransky was the first Australian out on the racecourse today, and in her Olympic debut she posted a 12th and a 26th in her two races. The young Queenslander got away quickly in the first race, but a dropping breeze made things tricky in the run home and caused a lengthy delay before the second race.
There were plenty of challenges for the Royal Queensland Yacht Squadron sailor including an unexpected run-in with an urchin. "As I went to jump on my boat I stood on a sea urchin," said Stransky. "I felt the spine go through my boot and in to my foot. So I spent my sail out trying to pull bits of sea creature out of my foot."
Race three for the Radials is scheduled for 3:30pm AEST tomorrow.