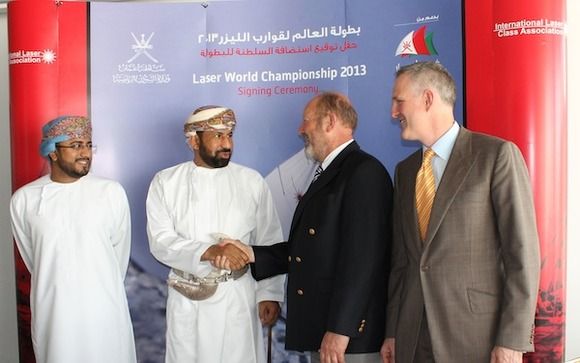 From right to left: David Graham CEO of Oman Sail, Jeff Martin Executive Secretary of ILCA, HE Sheikh Rashad Al Hinai Undersecretary of Omans Ministry of Sports Affairs and Issa Al Ismaili Director of Events in Oman Sail
A team of Omani sailors and officials recently attended the RYA's Sail for Gold Regatta in the UK to add to their event management expertise in preparation for organising the Championships next year.
HE Sheikh Rashad Al Hinai, Undersecretary of the Ministry of Sport Affairs said securing such a major sporting event represented a proud moment for Oman:
"Sailing has been a big part of our heritage over the past centuries and has continued to progress. Oman Sail has played a crucial role in developing sailing in the country and bringing the Laser World Championships to Oman.
"This will be the Sultanate's second championship after the Beach Handball World Championship that takes place in July 2012 at Mussanah. The infrastructure, facilities and wind conditions at Mussanah Sports city provide an ideal platform for hosting the Laser World Championship.
"This event will motivate us to host more high calibre international events in the future that in turn will help promote the Sultanate's hosting ability while inspiring the young Omanis to represent their country and make the Sultanate proud."
Oman Sail's CEO, Mr David Graham added: "We are delighted to be granted the privilege of hosting the 2013 Laser World Championships. This event gives an opportunity to showcase Oman in all its natural beauty to an international audience through sport, which aligns perfectly with Oman Sail's strategy. The Laser World Championship is at the pinnacle of dingy racing; it is the world's most popular race boat and having this event in Muscat will be an inspiration to the youth currently engaged in our grassroots programmes."
Details of championships /dates:
World Laser Standard Championship – 22-28 November 2013
World Laser Masters Championship – 2-8 December 2013
The Laser Radial Youth Championship – 29 Dec – 4 January 2014
Wind Information for Muscat/Seeb Airport (60KM from Al Mussanah sailing venue)