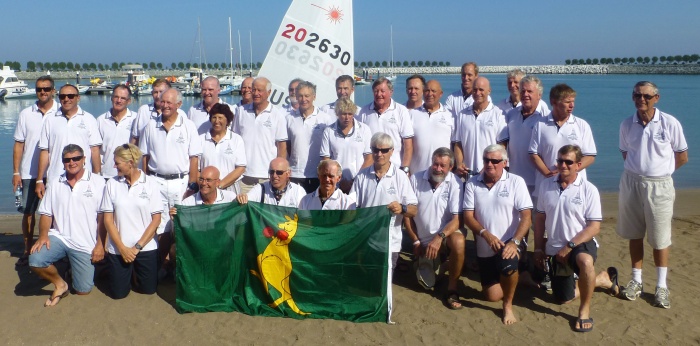 33 Australian Laser Masters (25 from NSW/ACT) travelled to Musannah Oman for the World Masters. Australia won 3 of the 8 Masters series. Congratulations to Vanessa Dudley, Mark Bethwaite from NSW and Greg Adams from Queensland for their respective convincing wins.
The series was run in mostly light winds – in the 5-9 knot range most days. While this did not suit all the Australian sailors Vanessa, Greg and Mark made short work of the opposition and each won without needing to sail on the final day.  The full results are here. There are some photos of the venue, the presentation and Oman  here and official photos here.
The Millenium Resort which was HQ for the Worlds was purpose built for boating and with major events like Laser Worlds in mind. It was, apart from the light winds, a perfect venue with all the competitors housed at the adjacent Millenium Resort. RO's Hugh Leiicester on the Standard Rig course and Jeff Martin on the Radial course did a great job in the sometimes marginal strength and shifty breeze.  As well there was an army of officials and helpers to make sure everything ran smoothly.
The World Standard Rig Open Championship was held prior to the Masters from 14th to 23rd November 2013. This was won by 40 year old Robert Scheidt from Brazil who took the title in a close contest from London Olympic Silver Medalist Pavlos Kontides from Cyprus. The full results are here. The World Laser Radial Youth Championship were also run at Musannah from 27th December 2013.