State Masters Port Stephens 16-17th November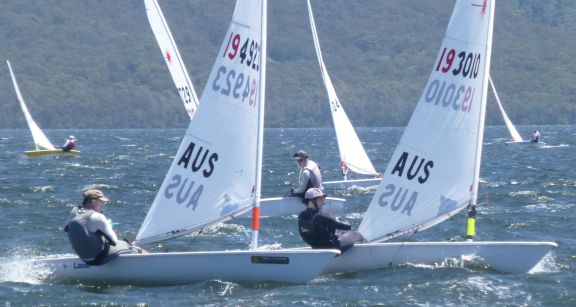 The State Masters is coming up on 16 and 17th November at Port Stephens Sailing and Aquatic Club. The Notice of Race is here.
While we may not get the giant NE'er we had last year at Great Lakes (pictured above) Port Stephens is always a choice venue offering fair winds and good clear water sailing in a great location.
There is lots of accommodation available in the area. Check out Port Stephens Accommodation, the Port Stephens Visitors Centre or just Google it. IBIS  Salamander Shores Resort, right at the club, is offering special deals for bookings – check them out for online rates here or ring 02 4982 7210 and mention the Laser Masters Regatta.
There will be a Gourmet BBQ at the Salamander Shores on the Saturday night. The cost is $30 with tickets available at registration.