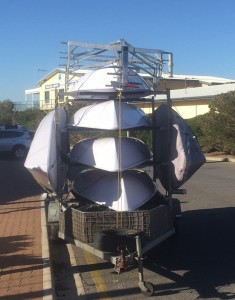 Laser sailors will go to great lengths to get their boats to regattas to enjoy the racing.
The photo here was taken at the 2017 Adelaide Nationals. It shows a sterling effort.
If anyone has a photo of a larger Laser sandwich we will be happy to publish same or perhaps to create a new Guinness Records classification for the endeavour.
Photos to lasersandwich@laser.asn.au.
PS
Never to be outdone Matthew Blakey reports that 9 Kiwi Laser sailors transported their boats from Melbourne to Adelaide for the 2003-2004 Nationals in the configuration below.
It is a bit hard to see all the boats but we know Kiwis can count and as there are eight Laser sailors in the photo we are assuming that the 9th was the photographer so 9 is the current Laser sandwich record.