Entries Open For The ISAF Sailing World Cup – Melbourne 2014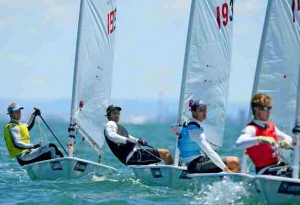 The Notice of Race for both Olympic and Invited Classes has been published online and entries are now being accepted for ISAF Sailing World Cup – Melbourne, which will be held at Sandringham YC.
The event will cater for all ISAF Sailing World Cup Classes (470 Men's, 470 Women's, 49er, 49FX, Finn, Laser, Laser Radial, Nacra 17, RS:X Men, RS:X Women, 2.4mR, SKUD18, Sonar, Kiteboard Men and Kiteboard Women) as well as invited classes including; FX (open), Laser 4.7, Laser Radial (men), Liberty, Optimist, 420, 29er, OK, Viper, 505, Minnows and International Cadets.
The event runs from 8th December 2014 and you can get a 25% off your entry if you get in before 1st October 2014.