Monthly Archives:
December 2016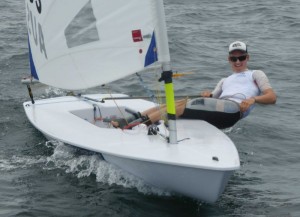 Congratulations to Finn Alexander DBSC for his win the ISAF World Youth Sailing World Championship just concluded in Auckland.
After a DSQ in the first race Finn strung together a string of four bullets in heats 4 to 7 leaving the classy fleet of 57 a tough chase.
Zoe Thompson from Perth was 7th in the Girls Radial.
You can see the YouTube video clip HERE.
The web site for the series is HERE.
The results of the event are accessed HERE

The International Laser Class Association (ILCA) and the Laser Builders have agreed to release the new composite Laser top section.
The release of the new top section was delayed until after the 2016 Olympic Games.
The new composite masts will be legal for use in all ILCA events as soon as they are introduced which is expected to be in early 2017.
The formal ILCA press release on the subject is HERE.
You can pre-order the new mast section for delivery in February from NB Sailsports or PSA.