Monthly Archives:
September 2015

Newcastle Cruising Yacht Club Laser fleet races on Newcastle harbour on Friday nights during summer. Their season starts on 9th October 2015. During daylight saving the Laser races are from 5.30pm and are usually finished by 7.30pm, or sunset, at the latest.
The fleet has grown from three boats five years ago to more than 20 each race. With the races being at the end of the week, there's a casual but competitive atmosphere with everyone heading over to NCYC bar afterwards for a beer or "Laser burger".
The club has built a launch pontoon off the end of one of its piers to give easy access into the harbour. The fleet has experienced phenomenal growth over the past three seasons due to the relaxed atmosphere, location and timing of the races. During daylight saving the NCYC races are from 5.30pm and are usually finished by 7.30pm, or sunset, at the latest.
Come along and enjoy the sailing and the après-sail scene and find out how to construct a "Laser burger".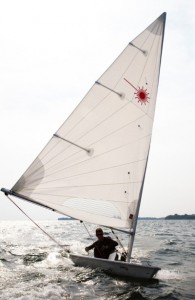 The ILCA has just issued a press release on the new radial cut Mark II Standard rig sail. The sail features a wide screen window.
The press release is here.
What they are saying is;
Nearly 10 years in the making, the new sail has a bi-radial construction and is made from slightly heavier (4.5Oz) Dacron cloth that better reorients the stress loads along the cloth, giving it a much better flying shape overall.  
Those that have tested the sail during the development phase have been quoted: "When you see the sail out sailing, all the distortions that you see in the current Laser sail are gone, there is no flutter in the leech and it looks like a really beautiful sail for the boat."
The class legal sails according to the ILCA press release will be available from 1st November. Sailors would be able to use them as soon as they are available except for Olympic competition and selection for Rio 2016.  This means they are class legal and available for all NSW/ACT Laser events after the Coasts at Port Kembla and for the National Open and Masters Events this season.
The new sail is nominally available from 1st November 2015. NB Sailsports have pre-order here and PSA have an option to pre-order on their web site here.